1. VR porn requires a headset. This applies to all virtual reality media; you need a virtual reality headset to experience virtual reality immersion. There are two types of virtual reality headsets for watching VR porn.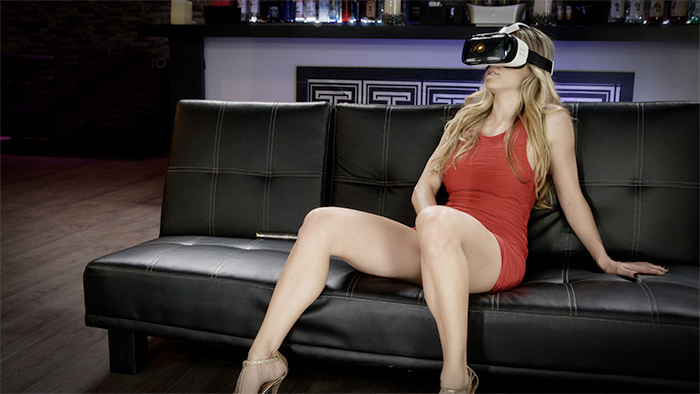 1. Smartphone-Driven: Smartphone-driven headsets rely on your smartphone's display and processor. Your phone snaps or drops into the headset, and via a pair of duo-convex lenses in the headset, you are able to enjoy a very satisfying, immersive VR porn experience.2. Proprietary Display: Virtual reality headsets dispense with the smartphone. They contain a dedicated display and processor, and connect directly to your desktop computer. As a general rule, these are more expensive than smartphone-driven headsets, largely because when you buy one, you're also paying for the most expensive component, which is the display screen and processor.2. You can get a VR porn headset for free.com gives away a free headset with every subscription. While Google Cardboard definitely qualifies as an entry-level VR porn product, it does the job effectively, providing a fully immersive experience in tandem with any smartphone. The BaDoinkVR team is banking on the fact that 1st time users will be blown away by the VR porn videos, and decide to ultimately catch the VR wave, with the purchase of higher-end HMDs like the Oculus, Gear VR, or Vive.

3. Virtual Reality Porn is shot differently from normal porn. Different cameras are used. The lighting is different. And your favorite porn stars must perform differently. For example, in a normal porn movie, there are numerous takes. The directors shoot, cut, then shoot from a different angle. This occurs several times over the course of a non VR porn shoot. With VR porn, it's more or less all done in one take, so the performers must rehearse the scene in advance of recording.

In fact you can watch porn stars Christie Stevens and Isiah Maxwell explain a bit about the process in this Behind-The-Scenes YouTube video that provides a documentary look at the process of creating a VR porn video.

4. Virtual Reality Porn is the future of porn. Normal porn videos are great. There's no denying that. VR porn, however, takes it to a whole other level. When done properly (BaDoinkVR.com is a good example), VR porn makes you feel like you're in the scene. You aren't observing. You're part of it. In this YouTube video, you can watch young couples in San Francisco watch VR Porn for the first time. It's funny, and gives one an accurate representation of how amazing it is.

5. Virtual Reality Porn is not free. Thanks to the Internet, we've all gotten used to free music, free porn, free movies, free everything. VR Porn, because it is so new, so scarce, and such a high-quality form of entertainment, is not available on tube sites like PornHub.com or TnAFlix.com. It is, however, affordable. Sites like BaDoinkVR.com offer dozens of exclusive virtual reality porn videos. Most are 15 to 20 minutes in length, and new videos are added to the site every week.

6. There are 360° VR porn videos and 180° VR porn videos. A 360° Virtual Reality porn movie is going to have multiple sex scenes occurring simultaneously. It's sex in the round, even behind you. 180° porn offers half the viewing area. Turn your head and look left. Turn your head and look right. However, since the video is 180°, there's nothing going on behind you. Of course, many will say that for VR porn, all you need is 180°, and there is some truth to that statement. The simple fact is that most of us watch porn lying down, and if you're watching porn lying down, it doesn't really matter what's happening behind you.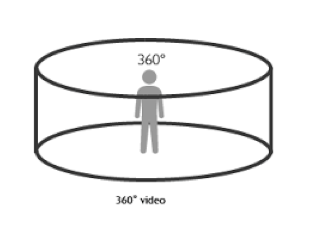 7. Virtual Reality Porn must be experienced. This poses a real problem for marketers and advertisers, because it is impossible to describe virtual reality porn accurately without experiencing it. You can say, "It puts you in the scene." You can say, "This is as close as you can get to fucking your favorite porn star." But those are just words, and words are not enough to convey just how unique, different and hot VR porn is. The CEO of BaDoinkVR explains it in this article in The Hustle: http://thehustle.co/virtual-reality-is-the-new-billion-dollar-frontier-of-porn
If cheeseburgers were your favorite food, how would you explain them to someone who has never had a cheeseburger? Somebody who's never experienced that combination of meat, cheese and bread? Somebody who's never even tasted meat or cheese or bread?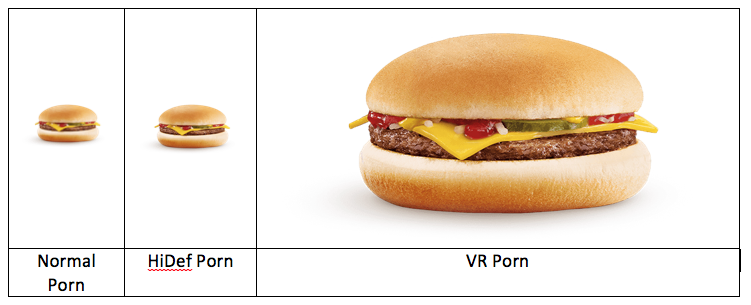 8. VR Porn is more than just video. Sex toy makers are stepping up to the virtual reality porn table. Called teledildonics, these products provide a haptic response to the experience of watching virtual reality porn. If you've used a console gaming system in the last 10 years, you're familiar with the concept of haptic response. It's that shaking of the controller you feel when the car you're driving rubs up against a wall, or when your character begins taking damage. With teledildonics, it's a different kind of rubbing, but conceptually the same.
9. You don't need to be a tech geek to enjoy VR porn. There is no denying that the technology behind VR is complex and deep. If you've read anything about the new format, it's easy to be intimidated. Buzzwords like parallax, interpupillary distance, magnetometer are bandied about, and that's just scraping the surface. Fortunately, you don't need to know what any of that means to start watching VR porn movies. Here's a video that shows you how simple the process is.
10. It's only the beginning. The future is unwritten, and virtual reality is an entirely new entertainment platform. In the months and years ahead enormous advances will be made. You'll be able to don a headset and walk across a virtual room. Displays will go from 4k to 16k, where 16k matches the resolution of human site. You'll see headsets replaced by glasses, and then replaced again by contact lenses. As for where VR porn will go, the same goes. The frontier is vast and evocative, filled with possibility, driven by creativity and limited only by our capacity to dream and imagine.