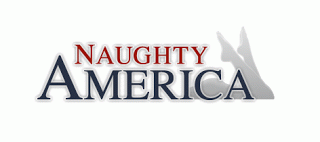 Naughty America VR is part of the Naughty America website. They have been offering porn since 2001. They offer everthing on one website: naughtyamerica.com. VR is just a part of what they offer. Most of their content is shot with real American models. So expect lots of pretty girls with big fake tits. Not that there is anything wrong with it!
Look and feel of the website 
The website is clear in directions and VR porn can be found easily on the menu bar. It's is right there in the middle just press Virtual Reality. You have to scroll a little till you get to the content. First they explain what VR is, what else they offer and which headsets can be used. Then you get to the content. It has a clear structure and good preview photo's. So you know what to expect when watching VR porn with Naughty America. The pricing structure is shown immediately on the right sidebar. To me the colors black and blue are a bit too cold for porn so only 4,5 stars.
How about their VR porn content?
If you like big titted, ass bleached American looking porn models then this is the shit. No extremes but all other options are offered. Young girls, threesomes, Milfs, doctors, students, moms everything is available here! The quality is great. They offer 180 degrees of rotation freedom. 1 new clip per week. That might go faster when there are more sold headsets. I love it! I give it 5 stars!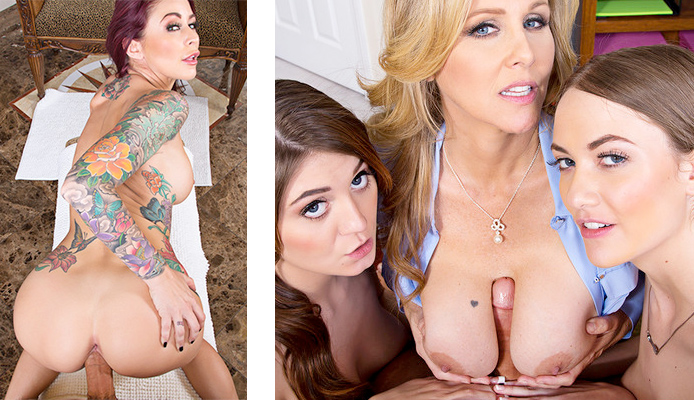 What are their pricing models?
They are good! Naughy America VR has 4 subscription models. 3 days for ONLY $ 1.95, 7 days $ 4.95, 1 month $ 24.95 and a year for only $ 74.95. Of course the subscriptions are renewed if not ended. But hee, with new content every week that is a bargain. So you'd be crazy not to try it for just $ 1,95.
What headsets can be used?
At the moment Naughty America VR offers support for the Oculus Rift, the Google cardboard, Samsung Gear VR and other smarthpone headsets. Which is kind of the same as hte Google cardboard. There is nothing much else out there yet. So basically if you want you can watch it.
Conclusion
Definiteley the best offer out there on the market. That is if you liek American style porn. Big fake plastich tits, bleached asses and lots of hot milfs are offered with Naughty America. The quality is great and the offer is grande. Just $ 1.95 to try the hottest VR porn out there.