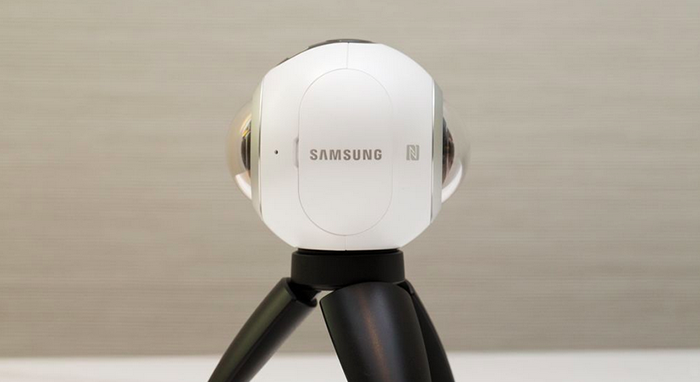 Samsung is entering the 360-degree imaging market with a new camera called the Samsung Gear 360. The camera was announced alongside the reveal of the Galaxy S7 and S7 Edge this evening at the company's Mobile World Congress event in Barcelona, and it will be available in the second quarter of this year.
More on the Samsung gear 360 specifications
The Gear 360 is a tiny, double-lensed sphere of a camera that's supposed to make shooting and sharing 360-degree photos and videos easy and approachable. (Let's just say it — it looks like an eyeball.) The bottom of the camera is flat, so it can rest on most surfaces, and it also features a standard tripod mount. The Gear 360 is mostly featureless on the outside, with just menu, record, and power buttons and a tiny monochrome PMOLED screen dotting the white plastic finish. There's also a slot for the microSD card (up to 128GB supported) and a swappable battery, both of which are hidden behind a small door. The camera is only splash-proof and dust resistant, though, so don't expect it to take a beating.
The internals of the Gear 360 work similarly to other dual-lens 360-degree cameras that are on (or are about to reach) the market. Each of the opposing f2.0 lenses has an extremely wide 195-degree field of view, and the resulting 15 degrees of overlap helps the software stitch the two images together.
Like most cameras that shoot in 360 degrees, you need to pull the files off the Gear 360 and use a companion app to do that stitching. The new Galaxy S7 and S7 Edge are the only phones that can do this with the Gear 360 right now — Samsung says the camera will also be compatible with "select Samsung smartphones," but the company wouldn't say which ones, or whether the Gear 360 will ever work with anything other than a Samsung phone. If you want a Gear 360 but don't own a Galaxy S7 or S7 Edge, you will be able to download a PC-only app to handle the stitching.
See more on the Samsung Gear 360 on their (really nice) website